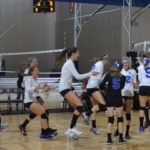 WHAT TO BRING
Bring a water bottle, knee pads, and a positive attitude! A t-shirt and number will be provided.
You must pre-register with the SRVA Region. Click here for the link.
Select Member Registration
Follow the prompts for NEW or RETURNING members
Please print off the form with the PIN number on it and bring a copy to tryouts.  We must have this when you check-in at tryouts. The club will pay your membership dues if you make a team, please DO NOT PAY.
Registration Fee is $45 and must be paid with online registration. Fee includes tryout t-shirt. (no refunds)
Walk-Up registration Fee is $50:  Walk Up registration for all ages will be accepted. We will accept Cash, Checks, and Credit cards at registration.
2018-2019 Season Age Definitions
18 and Under: Players who were born on or after September 1st, 1999 or are high school students in the twelfth (12th) grade or below during the current academic year and are 19 years of age or younger (born on or after September 1, 1999).
17 and Under: Players who were born on or after September 1, 2001
16 and Under: Players who were born on or after September 1, 2002
15 and Under: Players who were born on or after September 1, 2003
14 and Under: Players who were born on or after September 1, 2004
13 and Under: Players who were born on or after September 1, 2005
12 and Under: Players who were born on or after September 1, 2006
11 and Under: Players who were born on or after September 1, 2007
10 and Under: Players who were born on or after September 1, 2008
| | | | | |
| --- | --- | --- | --- | --- |
| Age Group | Day | Date | Time | Location |
| 11s/12s – Day 1 | Saturday | October 13, 2018 | 4pm-6pm | Heritage Pres. Church |
| 11s/12s – Day 2 | Sunday | October 14, 2018 | 2:30pm-4:30pm | Heritage Pres. Church |
| 13s – Day 1 | Saturday | October 13, 2018 | 6:30pm-8:30pm | Heritage Pres. Church |
| 13s – Day 2 | Sunday | October 14, 2018 | 4:30pm-6:30pm | Heritage Pres. Church |
| 14s – Day 1 | Sunday | October 14, 2018 | 7pm-9pm | Heritage Pres. Church |
| 14s – Day 2 | Monday | October 15, 2018 | 6pm-8pm | Heritage Pres. Church |
| 14 and Under Commitment Night | Thursday | October 18, 2018 | 5pm-9pm | Heritage Pres. Church |
| 15s – Day 1 | Sunday | November 4, 2018 | 2:30pm-4:30pm | Heritage Pres. Church |
| 15s – Day 2 | Monday | November 5, 2018 | 5:30pm-7:30pm | Heritage Pres. Church |
| 16s – Day 1 | Sunday | November 4, 2018 | 7:30pm-9:30pm | Heritage Pres. Church |
| 16s – Day 2 | Tuesday | November 6, 2018 | 6pm-8pm | Heritage Pres. Church |
| 17s/18s – Day 1 | Sunday | November 4 2018 | 5pm-7pm | Heritage Pres. Church |
| 17s/18s – Day 2 | Monday | November 5, 2018 | 7:30pm-9:30pm | Heritage Pres. Church |
| 15 and Older Commitment Night | Friday | November 9, 2018 | 5pm-9pm | Heritage Pres. Church |